The search field is underneath the
Compose Mail
button. Enter the search term (e.g. part of a subject or email address) and click the magnifying glass. Your search results will be displayed.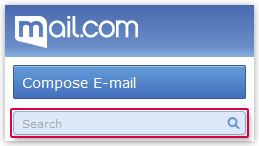 If necessary, you can now refine your search by selecting which folders or e-mail parts should be searched. To do so, please use the
In field
and
In Folder
search specifications.