The search field is underneath the
Compose Mail
button. Enter the search term (e.g. part of a subject or email address) and click the magnifying glass. Your search results will be displayed.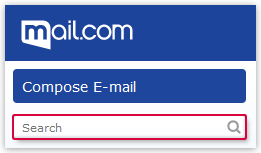 If necessary, you can now refine your search by selecting which folders or email parts should be searched. To do so, please use the
In field
and
In Folder
search specifications.
In Field: Determine whether the search will be conducted in the Subject, To or Cc field, or in all headers.
In Folder: Determine which folder should be searched.

In addition to the deafult search function of your mail.com mailbox you can use a cross-services search by clicking the Search button in the top right corner of the navigation bar. Find more informationen at Cross-service search.