There are two different ways to use MailCheck. After installation, MailCheck appears in minimized mode by default. The number next to the envelope icon informs you of new e-mails. Click the envelope icon to open your mail.com mailbox. Click the arrow to open the drop-down menu. In this menu, you can manually check your mailbox for new e-mail, open your mailbox, adjust the settings or maximize MailCheck.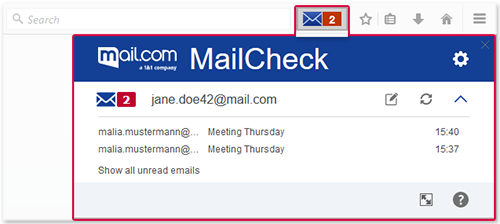 In maximized mode, mail.com MailCheck looks like a toolbar. You can adjust the settings to show or hide individual buttons. The buttons are displayed as just icons or as icons and text depending on the size of the browser. Click the arrow next to the wrench icon to open the drop-down menu. The drop-down menu takes you to other MailCheck functions.

(1) mail.com This button takes you to the mail.com home page.
(2) Search bar Enter the words you want to search for or double-click a word to insert it into the search bar.
(3) mail.com products These buttons take you to other mail.com products.
(4) Login/Logout You can use this button to log in or out.
(5) Minimize MailCheck Use this button to minimize MailCheck.
(6) Settings The wrench icon takes you to the settings.